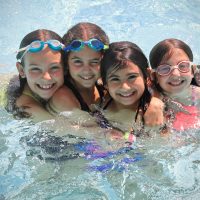 With camp in our hearts and on our minds, we are pumped to share our theme for the 74th season of Blue Star Magic…
We know that we are not alone in our reflections from the past year…it's been a wild one! All of us have experienced our lives differently over the past fourteen months. The shift in perspective has​, at points​, been tough. At the same time, it has proved to be positive and even affirming​, too. For many of us, life has become more simple with a newfound clarity around our priorities.
That sense of simplicity and realigning our lives to reflect what is most important came up often as a topic during our Virtual Summer Leadership retreat in the spring. Our team most missed and most highly valued "in person" connection with friends and family and even just the feeling of inhabiting space with other humans for a concert or a little league game. As we excitedly began planning for our 74th season of Summer Magic, our summer theme became clear! Through connection and togetherness, we can not only help campers return to a sense of normalcy, but we can also highlight a simple and profound lesson that rings true to the camp experience we offer at Blue Star. Being together with our camp friends at camp is what camp is all about, and at Blue Star, happiness is real when shared!
Our intention in selecting this summer's theme is the idea that we are all in it together. My sister (physician, mother and peaceful warrior) recently introduced me to the Raising Good Humans podcast with Dr. Aliza Pressman (developmental psychologist, parent educator and mother). On an April episode, Dr. Ken Ginsburg (renowned adolescent health expert and a father of twins) spoke with Dr. Pressman about the growth opportunities available to us if we can harness them as we emerge from the pandemic. He reminds us about children's biological need to connect face-to-face with others.
He ALSO ​describes a metaphor that really hit home for us at camp… Dr. Ginsburg notes that, individually, one stick is very susceptible to breaking under the stresses of nature. "When joined with a bundle of sticks, it's impossible to break. Together, we are more powerful than the sum of our individual parts." This summer at camp we will all be able to be there for each other, to support each other and to be strengthened by our connections and friendships.
As we embark upon our 74th season, we are ready to be present, to return to simplicity, to lead with gratitude and most of all to provide meaningful and joyful moments of togetherness. This is the essence of the Blue Star experience! We are one happy Blue Star family and can't wait for all our campers and staff to once again be…
Together @ Blue Star