Delicious & Nutritious
Blue Star's Kosher meals are designed with the interests of kids and parents in mind! Like everything at Blue Star, our food is kid-friendly and includes tons of great options to accommodate every camper's needs. Campers wake up to delicious hot breakfast items like pancakes, french toast, and scrambled eggs, plus our daily cereal bar. Lunch and dinner offerings include taco/quesadilla bar, chicken caesar wraps, hotdogs, hamburgers, pizza, chili in a bread bowl, grilled cheese, baked chicken, and more.
Choice is always part of the Blue Star menu as we have a full salad bar at every meal. We also offer either a pasta bar or sandwich bar in addition to the salad bar. Campers can always enjoy fresh fruit and sun butter and jelly at every meal. The Blue Star kitchen is run by a dedicated team of chefs and kitchen staff members who cook three fresh meals a day. Healthy snacks are also available throughout the day. Campers can choose from apples, yogurt, carrots, granola, pretzels, grapes, and other selections if they get hungry between meals. We serve cookies and juice every night before lights out.
Blue Star can accommodate special dietary needs including food allergies, vegetarian, vegan, gluten-intolerant, lactose-intolerant, and nut allergies. Blue Star is a nut-aware and Kosher facility. If your child requires specific food considerations, please let us know.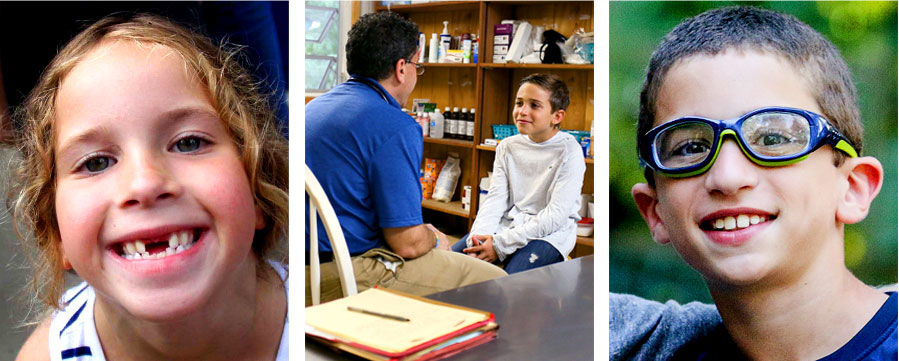 Safety and Security
The health, safety, and security of our campers is our primary focus. With regard specifically to security, every year we deepen our longstanding security practices and protocols, in addition to expanding upon them based on industry-wide best practices and continued research. In our pragmatic way, we continue to make sure we are doing everything possible to keep our camp community a safe haven. A foundational pillar of our approach to security builds on our network of local and national partnerships. We have deepened our relationship with the Henderson County Sheriff's Department in myriad ways, as well as with the local police department. These meaningful partnerships yield myriad positive outcomes. Some of our best practices are outlined below.
When it comes to the health of our campers and staff, we go above and beyond industry-wide best practices to effect positive health outcomes for all members of our camp community. On camp, the central command center resides in our two-story Health ("Wellness") Center, led by our long-time medical directors. In addition to our medical directors who are incredibly experienced RNs, we always have an MD on site and on call throughout the summer season. Further, we have a large team of nurses and nurse assistants who all work together in our community-based approach to medical care. Layered on top of this team are our 20-30 Wilderness First Responders (WFRs) who always are prepared, on camp and on off-camp trips, to respond to any emergent situation. Simultaneously, we have developed numerous relationships with the local hospitals, EMS and Fire Departments, and doctors' offices with whom we work every summer.
Supporting and protecting our camp community are:
Health Center staffed 24 hours a day
In-Camp Doctor and Nursing Staff
Full-time Health Care Administrator
Two Daily Health Calls
25 bed, Air-Conditioned Facility
Day Room with TV/DVD
Medical Specialists On Call
222 Bed Hospital: 10 minute drive (Part of the UNC Health Care Network)
800 Bed Teaching Hospital affiliated with UNC Medical School in nearby Asheville ("Life Flight" accessible)
Entrances Monitored with Multiple HD Video Surveillance Cameras
Staff interviewed for camp appropriateness
Interviews and Staff Reference Checks including Required Criminal Record Checks
Staff Training
7-21 Days of In-Camp Staff Training
Continuous Staff Evaluation
All Cabins Equipped with Smoke Detection Devices
Staff Practice Scheduled Fire, Aquatic and Emergency Skills
Two Fire Hydrants located in our Lake
24-Hour Security, In-Camp Emergency Response Team and "911" In-Camp Emergency Line
Accredited by the American Camp Association since 1950
Annual Insurance Safety Audit