The Blue Star Experience, A Camp with Purpose
Founded by the Popkin family in 1948 with a vision of creating a vibrant and inclusive Jewish camp community where campers could learn about their shared history and identity, Blue Star always has been a "camp with purpose." Family owned and led since its founding, Blue Star continues to nurture the vision of our camp's founders, instill the values of kindness, inclusion, social justice and environmental stewardship, and empower children and young adults to contribute positively to the world around them. Blue Star continues to operate with the intention of being "Kind to each other; Kind to the Planet."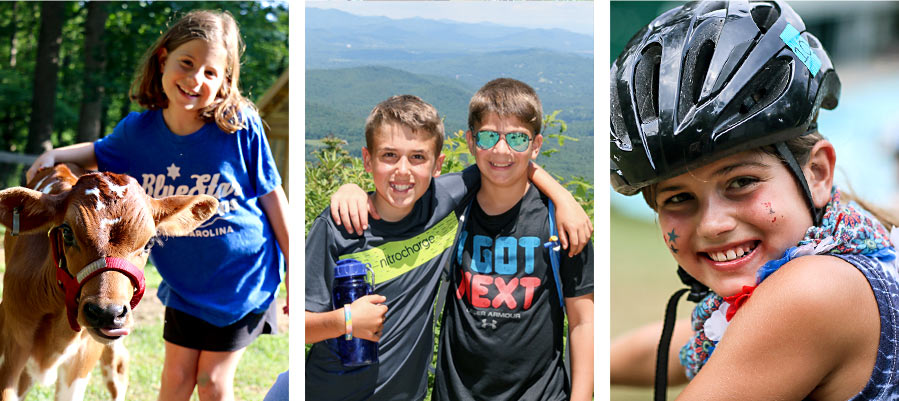 OUR VISION – Camper Core Outcomes
At Blue Star children not only contemplate who they are but also who they can be. Central to the Blue Star experience are our three core outcomes for campers: self-discovery, building community, and doing good.
Discovering your best self!
We believe every child has a vibrant spirit, individual talents, and unique lens through which they see the world. Creating a safe and nurturing space where campers can feel comfortable in their own skins is one of the greatest gifts of the camp experience. We encourage and support campers to venture outside of their "comfort zones," to be open to new experiences and to participate wholeheartedly in the camp activities that genuinely interest and excite them. While discovering passions, developing skills, and gaining confidence, our campers experience self-learning and growth. At Blue Star, individuality is celebrated, and being your best self is being your authentic self!
Building community!
We believe all children play an active and integral role in creating the type of community in which they live. Blue Star is a place where every camper feels known, needed, and cared for. Opportunities to help shape their communities are woven intentionally into the camp experience. In concentric circles, every camper is a key part of their cabin, unit, camp group and the larger camp community. Learning and practicing how to cooperate and collaborate are crucial in shaping how campers see and live in their community at camp and at home. Making meaningful friendships and sharing the joys of camp life together create a blueprint for the way campers will relate to others for the rest of their lives.
Doing Good!
We believe every child's voice and actions matter. Every day at Blue Star campers practice kindness and explore opportunities to think beyond themselves. From our summer and Shabbat themes to camp service projects, we instill a sense of citizenship in our campers. Blue Star campers have compassionate hearts and feel empowered to contribute positively to the world around them.