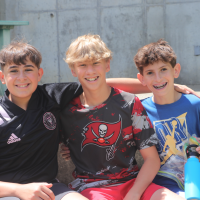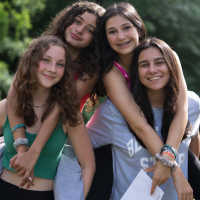 Reflecting on this past summer, I find myself yearning to be back in the beautiful Blue Ridge Mountains. Like so many of our campers and staff, I live "10-for-2." Viscerally, I feel the longing to be at camp when I am not physically there. Even though I get to live my dream and be "doing camp" 365 days a year; in so many ways, being at camp is the only real thing. Since October 7th, as I have been processing so many overwhelming emotions and meditating on what it means to be Jewish, my yearning and longing have exponentially intensified. So why do so many of us miss camp so acutely when it's not summer time?
Dr. Sandra Fox, author of The Jews of Summer: Summer Camp and Jewish Culture in Postwar America, contends that "camp-sickness" is very real and just as powerful as "home-sickness." She posits that the unique nature of summer camp only can be experienced during the summer while at camp. That is, no matter what we do to recreate that "camp vibe" in our homes, schools, synagogues, and communities; it's not the same thing.
https://www.nytimes.com/2023/08/20/opinion/camp-summer-campsickness.html
At the heart of Dr. Fox's resonant thesis is the intentional choice architecture layered throughout the summer camp experience. Our leadership team, evolving the traditions and structure passed down to our generation starting way back in 1948, creates the space each summer where our campers essentially get to choose their own adventure. Of course, many of today's campers are somewhat used to that in virtual worlds (from Tik Toks to gaming); but, it's actually their real world at camp. Campers choose daily who they are going to talk to, what games they are going to play, which Blue Star option they are going to try, and how they are going to live their best life.
Dr. Fox asserts that sleepaway camp is "an opportunity for self-reinvention and an invitation to be messier, weirder and just more myself." It is no surprise to those of us who are camp professionals that the same camper who is visibly homesick the first week of camp more often than not is the same camper who is crying to leave camp on closing day. Embracing "10-for-2," as opposed to fighting that feeling, allows for those two months at camp (or one week through seven weeks, depending on the session) to work their magic. After all, Fox continues, "camp is supposed to feel different from — and, frankly, better than — home. That's what gives camp its life-changing power."
Praying for peace in Israel and sending compassion to all fellow beings…
Here's to a safe, hopeful, and peaceful New Year as we already look ahead to next summer 2024!