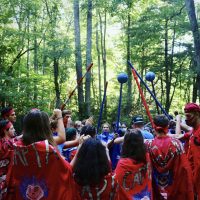 Carpe diem. Waking up this morning, I felt a mix of bittersweet emotions rushing in all at once. While this complex feeling did not catch me off guard today, it nevertheless retained its initial punch. Rather than getting stuck I chose to tend to one of my new pandemic rituals. Before checking on our kids to ensure they were up and beginning their weekday morning routines, I had created just enough time and space for me to take care of myself. For no more than ten to fifteen minutes I got to work with my makeshift yoga, stretching and mostly mindfulness-based session in the kids' playroom. Watching my thoughts pop like microwave popcorn, I worked to not let each one sweep me away for too long. From pose to stretch I kept returning to a focus on my breathing. When the family noise entered the frame I was ever so slightly more grounded and ready for the day.
In her recent New York Times article, Pandemic-Proof Your Habits, Kate Murphy urges her readers to lean into pandemic life with an openness and curiosity around finding new rituals and routines to buoy ourselves for the daily journey. She paints a picture of what the research tells us about how our brains have evolved both to help us survive on the most basic level and also to find meaning on a deeper level. In fact, it is the very rituals and routines we perform regularly that anchor us. Further, it is not even the actual behaviors in and of themselves that help us feel safe; rather, it is the regularity of practicing them (subconsciously or consciously) that provides the comfort. One of the reasons many of us are feeling an individual and collective sense of grief around the holiday season that just passed is that our pre-pandemic rituals have been thrown out the window. Here is where the opportunity lies: we can create new rituals that work for us right now.
A professor of neuroscience at the University College London, Karl Friston, says, "our brains are statistical organs that are built simply to predict what will happen next." In other words, we condition our minds to minimize surprise. Whether it's the way you make your coffee in the morning or the weekly Pilates class you attend, there are many things we do to help mitigate the difference between our expectations and reality. Although we can not control everything (or really not very much at all in the big picture), we absolutely can exert control over our rituals and routines. When our brains are freed up to not have to consider anew every single choice we make every day, we conserve more brainpower for higher order thinking which encompasses finding meaning in life. Last summer at camp our programming team worked smarter to build in new rituals that both were safely following our Covid-19 protocols and were fully honoring many long time traditions. For example, Color War took place over two consecutive Sundays, with the spirited competition kept within each of the twelve unit-cohorts of Blue Star. This Color War featured a second unique break out to kick start the second Sunday's events; we even had a professional outdoor stage built on the lower athletic field for the final Sunday's song fest where each unit-cohort sat separately in their socially distanced spaces. A camp-wide program; re-imagined during the pandemic.
One new Blue Star ritual this past winter break was our "Blue Star Virtual Winter WildCard Day." We hope the new experience gave campers, parents and staff creative ways to connect with one another and connect with some camp favorite activities. As we begin 2021 we look forward to connecting with all of you soon…l'chaim to a brighter & sweeter New Year!