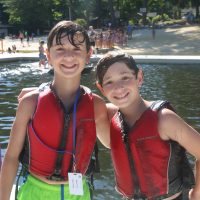 Lessons From Camp – By Michael Popkin (Harry Popkin's son)
I was born in April, 1950, in New Orleans to Harry and Mona Popkin. Two months later I went with them to the new site of the camp they had founded with their two brothers and their brothers' wives (Herman and Rosalie, Ben and Florence) a couple of years earlier in North Georgia. The camp was called Blue Star (as in "the star of David") and it was the first camp in the Southeast with a Jewish identity. It sat on a gorgeous piece of land around a small fishing lake with seven cabins at the base of Mt. Pinnacle, seven miles down Kanuga Road from Hendersonville, NC. I spent most of the next 25 summers there, matriculating from babe in arms through the ranks of camper, counselor, and eventually Director of Senior Boys and Camping Unlimited.
That first summer was a little rough. One family story has it that while resting comfortably in my crib in bottom floor of the "Infirmary" (WWII lingo was still in order back then) I was approached by a curious copperhead. Fortunately, and this part depends on which part of the family is telling the story, either my mother or one of my aunts beat the snake away with a broom. The point is that I survived and learned the first of many life lessons from camp:
Lesson #1. Safety first. Growing up in camp, the staff never assumed "everything will be okay." They (and later, we) ran drills, reviewed protocols, and watched the campers like hawks in places such as the waterfront. Creating fun comes easy, but making sure it's safe fun requires adult supervision. Kids just do not have the brain development yet to adequately recognize the risks and consequences of some behaviors. But they are learning, and that learning may be a drag on fun sometimes, but it sticks and makes them smarter, safer people throughout their lives.
Lesson #2. Think, "Can I help?" not "Can I have?" I recall an overnight to the top of Mt. Pinnacle when I was about twelve. The head counselor called us all together and gave a short talk about cooperation. He said that there were two types of campers: those who ask, "Can I have" and those who ask, "Can I help?" We all wanted to be the "Can I help" campers, but we were also wise cracking pre-teens. So, we peppered him the rest of the day with questions like, "Can I help…myself to more food?" or "Can I help…show you where to put up my tarp?" It became a fun game, but again the lesson stuck. Whether through cabin clean-up or in a softball game, we all learned the value of contributing, and that feeling of belonging it helped produce. Years later as a psychology graduate student I learned that one theorist, Alfred Adler, had deemed belonging the essential human quality for both survival and mental health.
Lesson 3. There is strength in unified numbers. Remembering that Blue Star was founded by three Jewish brothers soon after they returned from the second world war, it is not surprising that American patriotism and Jewish identification were core values. I recently found an old photo from the early 50's of my father leading a flag raising with a group of campers at the flagpole that stood by the stone wall down by the lake. The earnest emotion on all their faces was inspiring. When the movie, Judgement at Nuremberg, which told the story of the Holocaust came out in 1961, Blue Star rented the entire Hendersonville theatre and took every camper deemed old enough to experience it. My cousin, Rodger, and I were eleven. We were old enough.
We also learned about Israel and "living Judaism." We planted trees, like they did in Israel. Do you know those giant pines that line the soccer field (softball field in my day)? We planted them as seedlings out of buckets. We learned that America was strong, and that Jews were strong. On a humorous note, I once asked my father why they didn't serve bacon at camp. "Because it's not kosher, and we want all Jewish families to feel welcome here," was his answer. "Why don't they serve steak?" was my follow-up. "Because it's not in the budget," was his sage reply. I guess I also learned that you can't have everything.
Humor aside, camp taught to be proud to be American, Jewish, members of our cabins, units, divisions, and Camp Blue Star. It taught us that belonging to good groups, unified for common goals, gave us a strength greater than ourselves. And by belonging, learning, and contributing back to those groups, we lifted all of us higher, and felt better about ourselves in the process.
And so, we sang, louder and louder: "We are the Pioneers of camp Blues Star; S-E-N-I-O-R-S, Seniors are the very best; the drums will beat…in the Village; I've got that Blue Star spirit, Havana Gila, and…"
Much, much more.
Brief bio – Michael Popkin
Building on his experiences at Camp Blue Star, Michael went on to complete a PhD in Counseling Psychology and work as a child and family therapist in Atlanta. In 1983 he founded Active Parenting Publishers to create the first video-based parenting education program. He has authored and produced over thirty books and video-based programs, including Active Parenting: First Five Years; Active Parenting, 4th Edition; and Active Parenting of Teens, 3d Ed. A frequent keynote speaker and media guest, he has appeared on over 200 television shows including multiple appearances on The Oprah Winfrey Show and CNN.