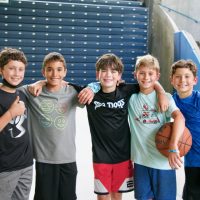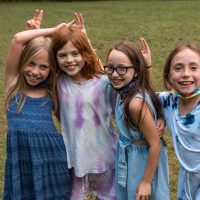 Carpe diem. As educators and camp directors, Lauren & I feel the pressure to create a safe, healthy and fun 'bubble' where campers can simply be campers. In 75 years of Blue Star magic, camp has never been more important for our children than right now. This extra special camp season marks our 75th anniversary, also known as the Diamond Jewbilee. It's a really big deal! What keeps us inspired, motivated and working tirelessly is the very good work of guiding children into being their best selves and evolving into good people. Lauren's grandfather and one of the co-founders of Blue Star, Herman Popkin, spoke about the mission of camp as building good people. The phrase—the good people—is a reference to Danny Siegel's poem of the same title.
The Good People
The Good People everywhere
will teach anyone who wants to know
how to fix all things breaking and broken in this world –
including hearts and dreams –
and along the way we will learn such things as
why we are here
and what we are supposed to be doing
with our hands and minds and souls and our time.
That way, we can hope to find out why
we were given a human heart,
and that way, we can hope to know
the hearts of other human beings
and the heart of the world. – Danny Siegel
My late mentor at the Harvard Graduate School of Education, Ted Sizer, reminded me often that children always are watching the adults and learning from our modeled behavior. This concept helps ground us in how we speak, act and even think aloud alongside our campers. A question I grapple with is whether humans are inherently good, and how much our communities can impact whether that innate goodness expands or contracts over time. At camp we seize the opportunity each summer to create anew an inclusive and authentic community where every camper and staff member can practice doing good. Equally important is owning when we make a poor decision with our words or actions that hurt someone else. Part of the work is holding space for all campers to reflect, learn and grow from those mistakes.
One way we facilitate this growth is through our daily cabin or unit Circle Ups. These are officially scheduled activity times where the adults at camp lead the campers in sharing their feelings. Last summer one of our senior camp's unit leaders came up with his own unit wide mantra to drive the point home: "Talking about our feelings is cool." The format of the Circle Ups varies widely and might take the form of a "Rose & Thorn" (where everyone shares a low point and then a high point from their day), "Pass the Positive" (where everyone shares a piece of positive feedback to another member in the circle) and much more. Yes…Lauren & I do this at home with Rose & Eli around our dinner table.
After a decade of being in our roles as the 3rd generation owners/directors of Blue Star, I am grateful for the opportunity to influence positively the next generation of good people. Since I was a head counselor back in the day, I dreamed of becoming a summer camp director. Every day I wake up super energized to double down on the good work. Lauren & I feel humbled to carry the torch and do our part in teaching campers how to be good people. A massive debt of gratitude goes out to all of those who came before us and all of those who will come after us. To the good work!