This past summer during the Friday night services at our 75th reunion weekend I had the privilege of speaking to our camp community in the Elmore Solomon Chapel. It was our first Shabbat service of our 75th season. Seth and I wanted to share this speech with you all. We are incredibly grateful for a wonderful and extra sweet 75th summer. Thank you to all our Blue Star campers and families, as well as our incredible staff, for making our 75th season of Summer Magic a true celebration of our camp's values and spirit.
We are wishing you all a happy and healthy New Year!
Chapel Thoughts from 5-27-22:
Thank you for being here to help us celebrate our 75th season of summer magic. Herman & Rosalie (and all of the founding brothers and their families) and my Mom and Dad would be so proud. Georgia O'Keeffe said, "to create one's own world takes courage." Our founders not only had the courage to bring their vision of a summer camp for Jewish children to life, the world they created also became a home to over a hundred thousand camper and staff alumni over the past seven and a half decades. How wonderful, that our little planet Blue Star, our home away from home, will continue to welcome children and staff this summer and in future summers, in our 75th season and beyond!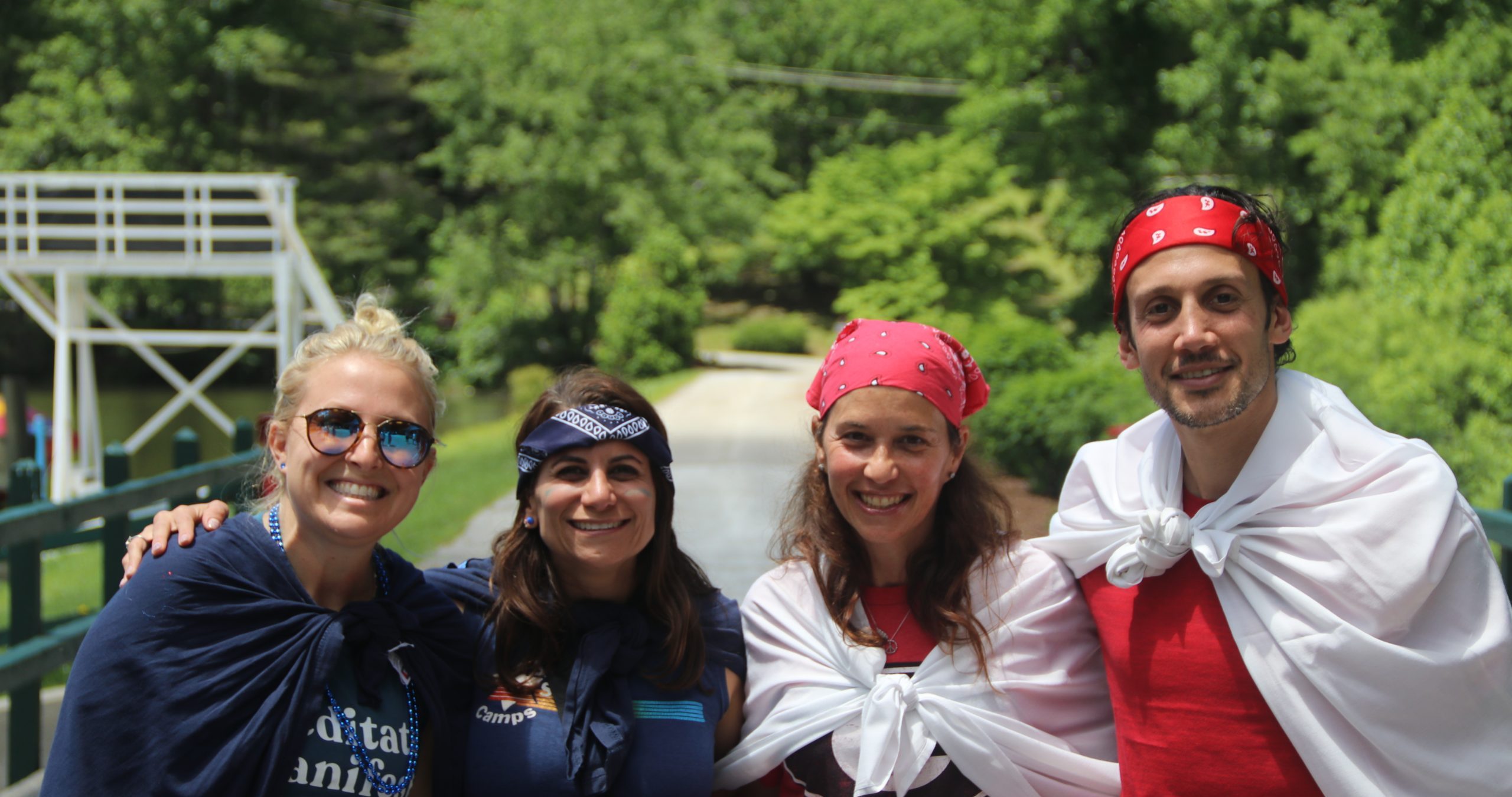 In thinking about what I wanted to relay to you here tonight in our beautiful Elmore Solomon Chapel, I found my mind (and heart) wandering back in time to my childhood at camp, to my camper and staff years. I imagine those memories are the same ones that brought you here this weekend: what we recall from being part of this magical place when we were young.
We were given:
The freedom to figure out our "stuff" on our own.
A little privacy, some "breathing room" from our lives at home and our parents.
Space for self-discovery and the empowerment that comes along with that.
Opportunities to find out what we were good at, what we were passionate about, who "our people" were (and in so many cases, still are).
Our hearts were open, we had fun, we were mischievous. We laughed for hours at night in
our bunks after lights out. Our friendships were genuine. We felt deeply connected to each other and to the place; we were part of something bigger than ourselves (our cabins, units and camp community). We were accepted. We belonged. We got to be Jewish together while also finding our own individual connections to our faith. And on top of all of that…we got to experience the magic of the natural world on this gorgeous piece of land:
The scent of the trees and the fresh air.
The wondrous night skies.
The sound of the rain on the cabin roof.
The views from the top of Mt. Pinnacle.
The cool evenings and mornings, the sunrises and twilights, the sounds of the bull frogs and the birds. How fortunate we were to get to experience life at the foot of this magical mountain when we were young…what a gift to us children, now grown, that we can share with our children as they grow up!
Blue Star gave us something to believe in because it has always been "a camp with a purpose." Herman & Rosalie and Rodger & Candy all understood that camp was a microcosm for what we could achieve in the world outside of our front gate. They believed that through the experiences campers and staff had at Blue Star, we could build a society that was peaceful, fair, equitable, humane, and loving. Now more than ever, we need institutions, people, and places that we can put our faith in. As we continue to bear witness to the unspeakable tragedies occurring in our country and across the globe as well as the climate crisis, at Blue Star this summer, we recommit to being "kind to each other and kind to the planet."
We have hope that we can resonate at a higher level to rebuild our communities, cities and country in ways that better reflect our true values. In our 75th season, we again get to create our own little universe at camp. Being part of it gives us a sense of possibility, gives us something to continue to put our faith in. So tonight in our Chapel, we ask for a blessing for our world….may we come through these darker times and find our collective "true north."
May our campers always know the joy of being young at Blue Star. May they love it as much as we have. May the quality of that experience be gifted for generations to come. May the place have the power to continue to shape and change the world for the better.
We are so grateful for your presence here this weekend, for your love for camp and each other and for the enduring connection we share. Happy 75th to Blue Star and to all of us here to celebrate it!
Here's to many more magical summers together @ Blue Star! – Lauren Popkin Herschthal