Find the job that's best for you!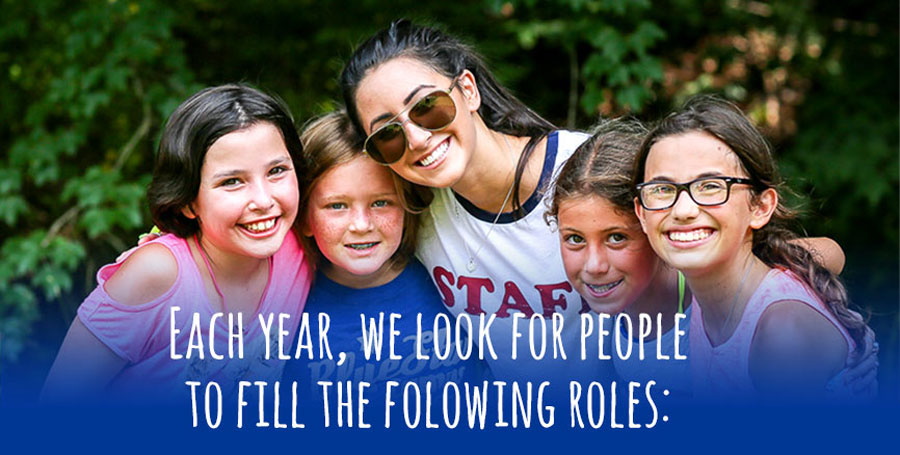 Camp Leader
Unit Leader
Counselor
Activity Specialists
For the following activities:

Archery
Arts and Crafts
Pottery
Fine Arts
Camp Craft
Canoe/Kayak
Chess
Drama/Theater Arts
Fitness
Riflery
Dance

Farm and Barn
Rock Climbing
Horseback
Library
Mountain Bikes
Jewish Studies
Ropes Course
Tennis
Photography
Nature
Cooking

Hebrew Tutoring
School Tutoring
Video
Yoga
Life Guard/Swim Instruction
Water ski
Web Newspaper
Guitar
Song Leading
Disc Jockey

Support Staff
For the following areas:

Main Office
Transportation
Business Office
Kitchen/Dining Hall

Laundry
Mail Room
Programming

Granny's Store
Health Center
Maintenance
Blue Star Staff Salary Schedule
The schedule assures that all American staff are treated equitably. Please note, THE SALARY SCHEDULE IS NOT NEGOTIABLE. The BASE SALARY should be used as a starting figure, adding increments to this figure from the explanation listed below. All increments will be paid only if the specific conditions are met and completed.
The Salary Schedule for American Cabin Counselors does not apply to staff hired through CAMP AMERICA, CCUSA, CAMP LEADERS or any other international placement agency. Fees and salaries will be paid for those employees as stipulated by the agency involved. If you are an international applicant and would like more information or referral to a placement agency, please contact us.
Activity Specialists: Salaries for American Activity Specialists are negotiated on the basis of related experience and expertise.